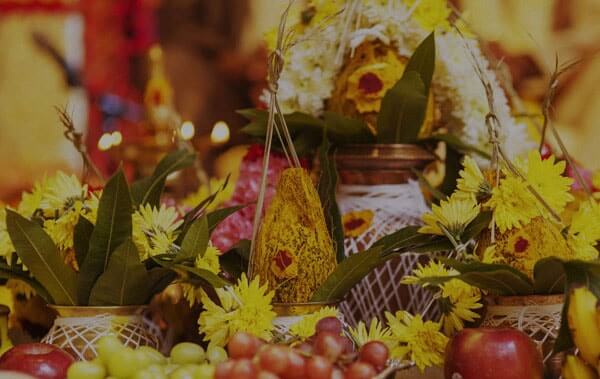 Vedas mention that the Divine is remembered irrespective of places, the worshiper worships. Worshipping in temples doubles the prayers on its own as temples idols are infused with vedic mantras, installed with Praan Prathistha mantra and, cosmic sounds of bells, devotional songs and rituals. Ritual Pujas are conducted by priests who know Vedic rituals. Hence, you can take the consultation of ACHARYA DEEPAK GAUR for all kinds of Puja's.
What is the importance of Puja?
Vedic rituals revolve around the gods for the favor, for material gains and fulfillments. Puja is also important for success in the court cases, against adversaries and enhancement in professional and personal life. There are rituals for comprehending one's eternal unions with the Supreme. The Vedic philosophy behind a ritual is to attain religion, fulfillment of desires, Arthaand Moksha. When the ritual is done under qualified Pundit, ACHARYA DEEPAK GAUR thoughts and vibrations of cosmic and spiritual forces are drawn to the homa fire that turns creates a defensive shield around you. The divine forces remove negative effects from professional and personal aspect of your life. You can get the all kinds of Puja suggestions and services from ACHARYA DEEPAK GAUR.
There are many pujas like Durga Puja, Shiva puja, Lakshmi Puja, Vastu Puja and other various Hindu ceremonies. All Vedic literatures from Four Vedas, Itihasa, Puranas, Upanishands to the great epic Ramayana and Mahabharata mention the performance of Puja/Pooja for appeasing the deities.
In the broader sense, pujas are performed for various ceremonies, festivals such birthdays, marriages or new professional ventures. They are held at temples, homes or at the inaugural ceremonies of events. Pujas are not obligatory rituals. One can perform or simply offer prayers to the deities on special events.
A worshipper lights diya, chants mantras, sings Vedic hymns in the praise of Divine. Then eatables such as fruits and sweets are offered to the deity. These eatables after prayers become purified and become prasadam.
You can get the all kinds of Puja solutions and services from ACHARYA DEEPAK GAUR. He is providing vedic astrology services and solutions related to health, finance, marriage, education, child, Carrier, foreign trip etc.